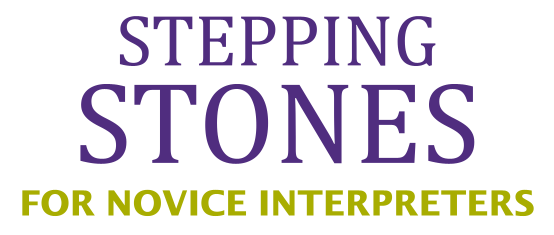 Are you looking to elevate the level of your interpreting skills?
Do you have a limited amount of time to practice and want maximum impact from what you do?
Are you on a budget and looking for no-cost options?
Check out this free online course on effective skill-focused practice. It is the first offering in Stepping Stones for Novice Interpreters, a self-directed track from the CATIE Center's Dive In project.
Step by Step:  Effective Skill-Focused Practice for Novice Interpreters
Description
Welcome to "Step by Step: Effective Skill- Focused Practice for Novice Interpreters." In this course, you'll learn about characteristics of effective skill-focused practice, do a self-check activity designed to help you identify areas for improvement related to effective practice, and then dive deeper into materials and activities designed to help you improve your practice skills & habits.
Learning Objectives
Someone who successfully completes this course will be able to:
describe characteristics of effective skill-focused practice
identify areas for improvement in your practice skills & habits
explore resources to support more effective practice, with specific reference to at least two of your identified areas for improvement
create a practice plan for 4 weeks
report back on successes & challenges related to skill-focused practice carrying out your plan.
The expected time commitment for this course is approximately 8-14 hours of engaging with the material, planning and self-assessment, and engaging in discussions on the learning platform, and an additional 10+ hours engaged in skill-development focused practice.  This time will be spread out over 5-7 weeks.
Final day to register was November 30, 2022.  This will be offered again in 2023.  
The registration form will provide you a link to enroll in a free Canvas course.  It will also ask for optional demographic information which will be helpful for the CATIE Center in evaluating the effectiveness of these resources for supporting the diversity of novice interpreters who are entering the interpreting field.  
About Stepping Stones for Novice Interpreters
This course is part of a series developed by the Dive In project of the CATIE Center at St. Catherine University. Each module will have a facilitator from the CATIE Center who monitors a Support Forum.  The activities are designed so that you can do them asynchronously. Though possible to do independently, we encourage you to either join as a group and work through the material together – or use the introduction forum to seek out others in the course who might work with you in the discussions. Collaborative learning can be a really important tool in professional development.