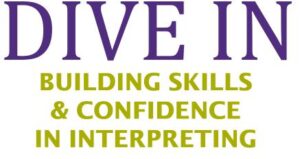 Dive In Cohort Application
For Deaf Interpreters
Application Closed
Application will be available October 1-October 31, 2023
Need Support with Application
We will be hosting a Zoom open house to provide live support in ASL from 6:00-8:00 pm CT on October 11, 18, and 25. (Zoom ID:  96602182680)
Office hours in other time zones: 
4:00-6:00 pm Pacific Time

5:00-7:00 pm Mountain Time

6:00-8:00 pm Central Time 

7:00-9:00 pm Eastern Time
Frequently Asked Questions
The CATIE Center will be able to accept approximately 20 participants in the cohort program. For those who are not accepted, you are encouraged to take part in the offerings for Stepping Stones for Novice Interpreters.
All of the required activities and resources will be available online. The program runs from January through August with synchronous meetings on Wednesday nights via Zoom and asynchronous activities online using Canvas and GoReact.
Come on and dive in!  We're here to support you!
Questions
For questions on the application process, please contact Jenny Smith-Hastings, Dive In Program Specialist at jesmithhastings@stkate.edu.