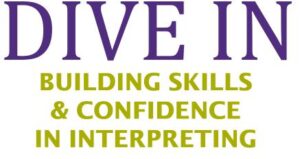 Dive In Cohort Application
For Deaf Interpreters
Application Closed
Available 10/3-10/31, 2022
The CATIE Center will be able to accept approximately 20 participants in the cohort program. For those who are not accepted, you are encouraged to take part in the offerings for Stepping Stones for Novice Interpreters.
All of the required activities and resources will be available online with flexibility in timing.  We encourage interpreters, Deaf, Coda, and hearing, from diverse backgrounds to apply.
Come on and dive in!  We're here to support you!
Questions
For questions on the application process, please contact Jenny Smith-Hastings, Dive In Program Specialist at jesmithhastings@stkate.edu.