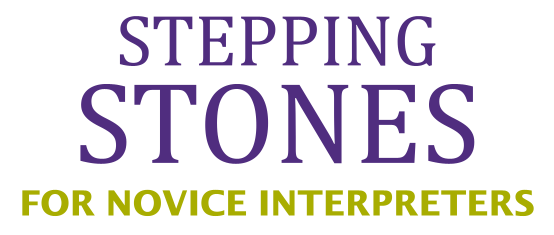 Are you interested in exploring the concept of microaggressions? And would you like to understand how some people in the field of ASL-English interpreting experience a climate of microaggression? 

Would you like to become more aware of the impacts words and behaviors can have on us or our interpreting colleagues? 

Do you want to be part of the solution to ending the climate of microaggression and creating a culture of inclusion in interpreting and Deaf communities? 
Dealing with Microaggressions for Novice Interpreters
Description
This course is designed to increase awareness of microaggressions from multiple perspectives: 
How comments and behaviors by interpreters are contributing to microaggression experienced by other interpreters, particularly those who identify as black, brown, CODA, Deaf, or a combination of those identities, and 

How microaggressions are negatively impacting interpreters, and

How microaggressions are negatively impacting  black/brown Deaf, DeafBlind, and Hard of Hearing communities. 
Course content is amplified with videos of black/brown interpreters discussing their experiences and sharing personal stories to provide other black/brown interpreters meaningful opportunities for connection, reflection, and empowerment. Content and case studies are also shared to support learning and deeper understanding for interpreters who do not identify as black or brown, including strategies to address intentional and/or accidental microaggressions occurring during professional practice. 
Learning Objectives
Participants completing this course will:
Define microaggressions and list 3 examples that Deaf/Coda/black/brown interpreters have experienced.  

Compare/contrast being "called in" versus being "called out" and state 3 responses/actions that can be applied. 

Identify elements of microaggressions in case studies and real life scenarios and then reflect on possible outcomes for those involved.  

Discuss 3 strategies for combating microaggression.
A Note on CEUs
Because our grant is focused on novice interpreters working toward certification, CEUs are not offered. Interpreters interested in CEUs can initiate a PINRA with an RID approved sponsor.
For a PINRA application, you need the following information:
Flyer for the course: Flyer available for download to include with your PINRA application.
CEUs to request:  1.0 CEUs in Professional Studies – PPPO
Workshop Description and Agenda: Available as Google Doc. You can download this page to include with your PINRA application.
Documentation of Learning:  This course will take at least 10 hours to complete and you will receive a certificate of completion at the end that you can share with your sponsor.  Additionally, if your sponsor requires reflections on what you have learned, you can copy your reflections from the course to share with them.
 Dates of Activity:  You can choose to start the activity any time before October 15, 2023.  When you complete it is up to you, but there will not be any facilitation after October 15, 2023.
Registration will be open until October 15, 2023. 
The registration form will provide you a link to enroll in a free Canvas course.  It will also ask for optional demographic information which will be helpful for the CATIE Center in evaluating the effectiveness of these resources for supporting the diversity of novice interpreters who are entering the interpreting field.

About Stepping Stones for Novice Interpreters
This course is part of a series developed by the Dive In project of the CATIE Center at St. Catherine University. Each module will have a facilitator from the CATIE Center who monitors a Support Forum.  The activities are designed so that you can do them asynchronously. Though possible to do independently, we encourage you to either join as a group and work through the material together – or use the introduction forum to seek out others in the course who might work with you in the discussions. Collaborative learning can be a really important tool in professional development.