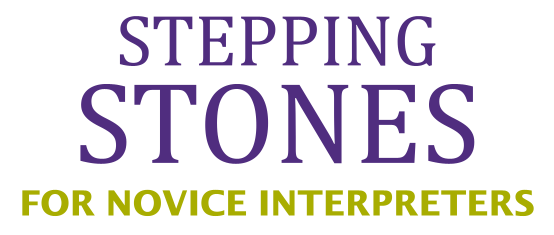 Are you looking to elevate the level of your interpreting skills?
Do you have a limited amount of time to practice and want maximum impact from what you do?
Are you on a budget and looking for no-cost options?
Check out this free online course on ethical decision-making for novice interpreters. It is the second offering in Stepping Stones for Novice Interpreters, a self-directed track from the CATIE Center's Dive In project.
Ethical Decision-Making for Novice Interpreters
Description
This course is designed for ASL interpreters, Deaf and hearing, and has been created for two main purposes:  1) to prepare you for taking an ethical interpreting exam and 2) to achieve a broader view of ethics to guide your decisions on the job.  This course is not meant to be comprehensive, but rather to encourage curiosity about ethics and deepen your understanding and application of ethical decision-making.  One of the benefits of taking a closer look at ethics is that some of the frameworks can help you analyze the nuances of interpreting. It is our hope that you will come away from the modules in this course with an ability to apply these concepts in your real life work and on an ethics exam.
Learning Objectives
Someone who successfully completes this course will be able to:
Understand a broad view of what are ethics and how to approach ethical decision-making
Understand the evolution of ethics in the field of ASL interpreting
Describe what core values are and the difference between personal and professional values
Differentiate between ethical decision-making in real world scenarios and exam scenarios
Demonstrate an understanding of the various frameworks used for ethical decision-making
Consider the different perspectives present in a real world interpreting scenario
Apply a framework for decision making to a case study
Apply a framework to a real world interpreting scenario
Conceptualize "supervision" and its benefits to a practice profession
The expected time commitment for this course is approximately 10-15 hours of engaging with the material. This time will be spread out over 5-7 weeks.  The course will open November 14 and will close on January 17.
About the Course Developer
Adeline Riley is an ASL interpreter who has been certified since 2010.  She has a passion for ethical decision-making that has grown since a colleague introduced her to case conferencing and supervision. Since that time, reflecting on how her choices impact other people has really influenced her work as an interpreter.  She has experience mentoring and facilitating study groups to support novice interpreters in preparing for ethics exams.  Her own professional development focuses on ethics and she is excited to share these resources and perspectives with you. 
Final day to register is January 17, 2023.  This will be offered again in Fall of 2023.  
The registration form will provide you a link to enroll in a free Canvas course.  It will also ask for optional demographic information which will be helpful for the CATIE Center in evaluating the effectiveness of these resources for supporting the diversity of novice interpreters who are entering the interpreting field.  
About Stepping Stones for Novice Interpreters
This course is part of a series developed by the Dive In project of the CATIE Center at St. Catherine University. Each module will have a facilitator from the CATIE Center who monitors a Support Forum.  The activities are designed so that you can do them asynchronously. Though possible to do independently, we encourage you to either join as a group and work through the material together – or use the introduction forum to seek out others in the course who might work with you in the discussions. Collaborative learning can be a really important tool in professional development.