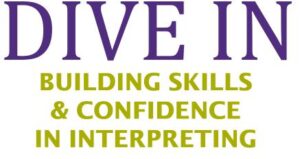 Dive In Cohort Application
For Coda and Hearing Interpreters
Application Open
10/3-10/31, 2022
For questions on the application process, please contact Jenny Smith-Hastings, Dive In Program Specialist at jesmithhastings@stkate.edu.
Application Process
Complete the Google Form and e 3 activities in a Canvas course by October 31 at 5:00 pm CDT. The Google Form will provide you with more information on how to complete the activities.
Coda/Hearing Interpreters
ASL Essay
English Essay
Interpretation
Application Form
Coming October 3, 2022.