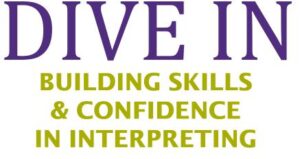 Dive In Cohort Application
For Coda and Hearing Interpreters
Application Closed
Application will be available October 1-October 31, 2023
Need Support with Application
We will be hosting a Zoom open house to provide live support in ASL from 6:00-8:00 pm CT on October 11, 18, and 25. (Zoom ID:  96602182680)
Office hours in other time zones: 
4:00-6:00 pm Pacific Time

5:00-7:00 pm Mountain Time

6:00-8:00 pm Central Time 

7:00-9:00 pm Eastern Time
Frequently Asked Questions

The CATIE Center anticipates accepting 20 participants in our cohorts. For those who are not accepted, you are encouraged to take part in the offerings for our self-directed track, Stepping Stones for Novice Interpreters.
There are no costs to be a part of the Dive In cohort. All of the required activities and resources will be available online. The program runs from January through August with synchronous meetings on Wednesday nights via Zoom and asynchronous activities online using Canvas and GoReact. We encourage interpreters, Deaf, Coda, and hearing, from diverse backgrounds to apply.