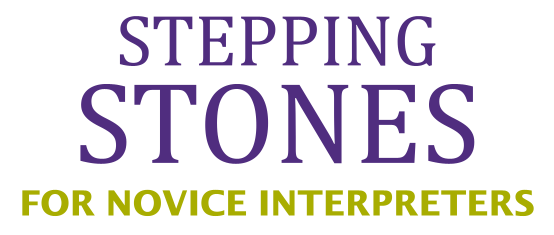 Are you a Deaf interpreter working toward certification?
Are you looking for support from an experienced CDI?
Do you want to work with other Deaf interpreters with a similar goal?
Check out this free online course on preparing for the CASL exam for Deaf interpreters.  It is an offering in Stepping Stones for Novice Interpreters, a self-directed track from the CATIE Center's Dive In project.
CASLI Exam Prep for Deaf Interpreters
Description

The course focus is the CASLI Performance Exam for Deaf Interpreters and the Gap Test that will be required for those having completed the CDI Knowledge Exam before 2021. This course provides test preparation content in manageable and distinct sections, a total of eight modules. The overall goal of this training is to help you understand the process of performance testing and practice skills that will be required on the exam so you can better prepare for the CASLI Performance Exam for National Certification.
The eight course modules are designed to provide you a structure as you prepare to sit for the CASLI Performance Exam for Deaf Interpreters. The modules are:
Module 1: Getting Started
Module 2: Interpreting Sample Set & Assessment 1 (Baseline)
Module 3: Ethical Considerations
Module 4: Gap Knowledge Test
Module 5: Methods of Message Transfer
Module 6: Practicing Interpreting Skills
Module 7: Interpreting Sample Set & Assessment 2 (Putting it all together)
Module 8: Wrapping Up the CASLI Performance Exam Prep for Deaf Interpreters
The course is designed to be completed over 8 weeks, at your own pace and takes at least 15 hours to complete. Each module will have a specific focus and include opportunities for application and reflection. The course registration will be available from June 8- July 31, 2023.
Facilitation
This course will be facilitated by Dr. Naomi Sheneman, who helped to develop the course and is an experienced Certified Deaf Interpreter and interpreter educator. She has been working in the field of interpreting in various roles since 20002 and has been a key consultant for the Dive In project's Deaf Interpreter cohort.  Dr. Sheneman will be facilitating from June 15-August 12, 2023.
Learning Objectives
Participants completing this course will:
Identify the expectations for performance testing as a Deaf interpreter.
Assess and reflect on their interpreting skills in order to identify areas of strength and areas to improve.
Develop a development plan to guide their preparation for a performance exam.
Identify areas of focus and access strategies for how to approach a performance exam.
Practice their interpreting skills in order to increase their readiness for performance testing.
A Note on CEUs
Because our grant is focused on novice interpreters working toward certification, CEUs are not offered. Interpreters interested in CEUs can initiate a PINRA with an RID approved sponsor.
For a PINRA application, you need the following information:
Flyer for the course: Flyer available for download to include with your PINRA application.
CEUs to request:  1.5 CEUs in Professional Studies
Workshop Description and Agenda: Available as Google Doc. You can download this page to include with your PINRA application.
Documentation of Learning:  This course will take at least 15 hours to complete and you will receive a certificate of completion at the end that you can share with your sponsor.  Additionally, if your sponsor requires reflections on what you have learned, you can copy your reflections from the course to share with them.
 Dates of Activity:  Naomi Sheneman will be facilitating the course between June 15 and August 12.
Final day to register is July 15, 2023.  This course will be offered again in 2024.  
The registration form will provide you a link to enroll in a free Canvas course.  It will also ask for optional demographic information which will be helpful for the CATIE Center in evaluating the effectiveness of these resources for supporting the diversity of novice interpreters who are entering the interpreting field.

About Stepping Stones for Novice Interpreters
This course is part of a series developed by the Dive In project of the CATIE Center at St. Catherine University. Each module will have a facilitator from the CATIE Center who monitors a Support Forum.  The activities are designed so that you can do them asynchronously. Though possible to do independently, we encourage you to either join as a group and work through the material together – or use the introduction forum to seek out others in the course who might work with you in the discussions. Collaborative learning can be a really important tool in professional development.