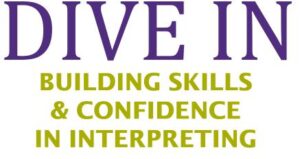 Dive In Cohorts
Application Opens October 1
Application will be available October 1-October 31, 2023
General Information
Are you new to the interpreting field, working toward credentials, striving to be a reflective practitioner and ready to make a commitment to your professional development?  If the answer is yes, here's an opportunity to "dive in."
One of the CATIE Center's latest projects is Dive In: Building Skills and Confidence in Interpreting. The project aims to support novice interpreters who identify a specific goal, such as certification (i.e., CDI, NIC, BEI),  state licensure, or passing an agency screening, and commit to working to achieve that goal. We will have two cohorts:  Deaf Interpreters and Coda/Hearing interpreters.  These cohorts will collaborate at times throughout the program.
The program can be completed through Canvas and Zoom with synchronous and asynchronous activities.

The CATIE Center anticipates accepting 20 participants in our cohorts. For those who are not accepted, you are encouraged to take part in the offerings for our self-directed track, Stepping Stones for Novice Interpreters.
There are no costs to be a part of the Dive In cohort. All of the required activities and resources will be available online. The program runs from January through August with synchronous meetings on Wednesday nights via Zoom and asynchronous activities online using Canvas and GoReact.
We encourage interpreters, Deaf, Coda, and hearing, from diverse backgrounds to apply.