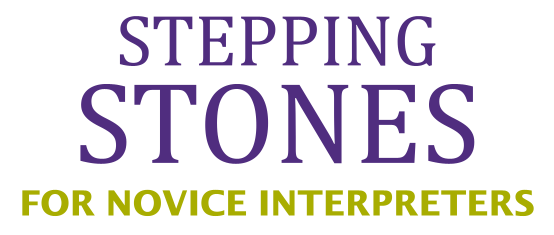 Are you looking to elevate the level of your interpreting skills?
Are you interested in being ready to interpret in a variety of work settings?
Are you looking for no-cost high quality options?
Check out this free online course on building capacity for interpreting in work settings.  It is the fourth offering in Stepping Stones for Novice Interpreters, a self-directed track from the CATIE Center's Dive In project.

Description
Build your ASL and interpreting knowledge and skills for a variety of work settings!
Interpreters work in a variety of employment settings and how language is used will vary depending on the setting as well as the people involved.
This online course is designed to give novice interpreters opportunities to review possible  frameworks for approaching interpreting, with practical applications to work settings.
Engage in deliberate practice to build your interpreting capacity.
Learn from and practice interpreting for Deaf people talking about their work in a series of videos created by the National Association of the Deaf .
Increase your competency in a variety of work settings that include a Deaf person being interviewed in ASL about their work, a hearing person in a similar position being interviewed in English about their work, and then those two people having a conversation about their work. You can practice interpreting the interaction and then see a sample interpretation with a reflection by the interpreter who was there for the original conversation.
Learn about interpreting for vocational rehabilitation, including perspectives from two VR counselors.
Over ten work settings are presented including marriage and family therapy; library and information science, and architecture.
Learning Objectives
Participants completing this course will:
List characteristics of effective interpreters in vocational rehabilitation settings
Identify interpreting strategies for at least 4 work settings
Assess their own interpreting work
Compare and contrast their interpreting work and samples from other interpreters
Reflect on their own work using the sample interpreter reflections as a model
The course is designed to be completed over 6 weeks, at your own pace. Each module will have a specific focus and include opportunities for application and reflection. Modules can be completed in approximately 3-4 hours. Registration for the course was available from January 20 – March 15, 2023.
Registration open from October 1 -31.  

The registration form will provide you a link to enroll in a free Canvas course.  It will also ask for optional demographic information which will be helpful for the CATIE Center in evaluating the effectiveness of these resources for supporting the diversity of novice interpreters who are entering the interpreting field.

About Stepping Stones for Novice Interpreters
This course is part of a series developed by the Dive In project of the CATIE Center at St. Catherine University. Each module will have a facilitator from the CATIE Center who monitors a Support Forum.  The activities are designed so that you can do them asynchronously. Though possible to do independently, we encourage you to either join as a group and work through the material together – or use the introduction forum to seek out others in the course who might work with you in the discussions. Collaborative learning can be a really important tool in professional development.