The CATIE Center Team
Dive In Project

The Dive In team gathered in January 2023 for a face to face meeting at the campus of St. Catherine University in St. Paul.  The above picture was taken in from of a mural that depicts some of St. Catherine University's history and mission.  Pictured from left to right are:  Holly Nelson, Laurie Swabey, Erica Alley, Doug Bowen-Bailey, Jenny Smith-Hastings, and Andrea Olson.
Doug Bowen-Bailey, MA, CI & CT, Project Director

Doug seeks innovative ways to support recent graduates on their journey to becoming practicing professionals. He worked on the CATIE Center team from 2017-2021 with the Graduation to Certification program and collaborated on many CATIE projects before becoming a staff member. In addition to working with the CATIE Center, he interprets in the community when he can, provides mentoring services, and serves on the executive board of the Duluth Branch of the NAACP. He received his MA in Interpreting Studies and Communication Equity in 2019 from St. Catherine University with a project focused on understanding best practices for teaching interpreters about power, privilege and oppression.
Doug lives in Duluth, MN with his partner, Holly.  His best thinking often happens while he is on a bicycle, and so is grateful for any chance to be out on the roads and trails on two wheels.
Andrea Olson, Ph.D., Evaluator
Andrea is professor of psychology at St. Catherine University and an evaluator for the CATIE Center. Her specialty is industrial/organizational psychology and she earned her master's degree and doctoral degree from the University of Minnesota. Andrea joined St. Catherine University in 2001 and has worked with the CATIE Center since 2005. Prior to joining St. Kate's, Andrea worked at a survey research organization and management consulting firms. At St. Kate's, she teaches industrial/organizational psychology, statistics, and research methods. She serves on the University Institutional Review Board and she served as chair of the Psychology Department for five years. Her research interests include team member performance, job performance, and work/life/school balance of college students. She is also interested in cross-disciplinary topics, including understanding the work of healthcare interpreters and designated healthcare interpreters.
Jenny Smith-Hastings, Program Specialist
Jenny graduated from Gallaudet University with a BA degree in interpretation. Since 2017, she has worked as a program specialist for the CATIE Center at St. Catherine University supporting novice interpreters as they enter the field. Jenny enjoys playing in volleyball leagues and spending time with her 7 cats.
Laurie Swabey, Ph.D., Executive Director
Laurie is professor of interpreting, and executive director of the CATIE Center, at St. Catherine University. Her doctoral degree is in linguistics from the University of Minnesota. Her current research interests include interpreting in the healthcare context and interpreting pedagogy. Dr. Swabey's research has been published in several journals, most recently in Sign Language Studies (2017); International Journal of Research and Practice in Interpreting (2016); Journal of Interpreting (2016); International Journal of Interpreter Education (2016, 2015); Journal of Healthcare Quality (2016); and the International Journal of Translation and Interpreting (2014). Laurie is also the co-editor of two books: Advances in Interpreting Research (Benjamins, 2011) and Educating Healthcare Interpreters (Gallaudet University Press, 2012). She has served as an advisor to the National Council on Interpreting in Health Care and the Certification Commission for Healthcare Interpreters, as well as on the board of directors for Conference of Interpreter Trainers and American Translation and Interpreting Studies Association. Laurie's most recent national and international conference presentations include Critical Link in Edinburgh, Scotland (2016); the 6th International Conference on Public Service Interpreting and Translating in Madrid, Spain (2017); and the International Symposium on Signed Language Interpreting Research in Washington, DC (2017).
Holly Nelson, Ph.D., NIC Master, Instructional Designer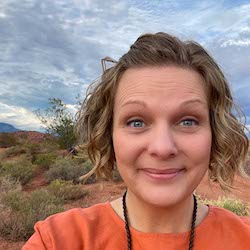 Holly Nelson is an instructional designer for the CATIE Center in addition to her role as an associate professor in the Educational Interpreting Program at the University of Arizona. Holly's experience spans 25 years and includes ASL/English interpreting, teaching, mentoring, program development, and assessment. She has worked and taught in academic, community, government, and corporate settings. Holly has specialized in decision making/ethics, program review/development, experiential learning/mock interpreting, and test preparation. She has developed programs that focus on heritage learners of ASL, Deaf interpreters, internships in VRS settings, and the graduation to certification gap. She is also passionate about deliberate/reflective practice and expressing her creativity in her work. She maintains National Interpreter Certification at the master level, Utah Professional Certification, and EIPA. She has many creative interests, enjoys traveling, and spending time with her family. She lives with her wife in Tucson, Arizona.